WORLDWIDE DESTINATIONS (BROWSE BY REGION)
Call us today at
1-866-765-WAVE(9283)
1-866-796-WAVE(9283)
Explore the World Marvels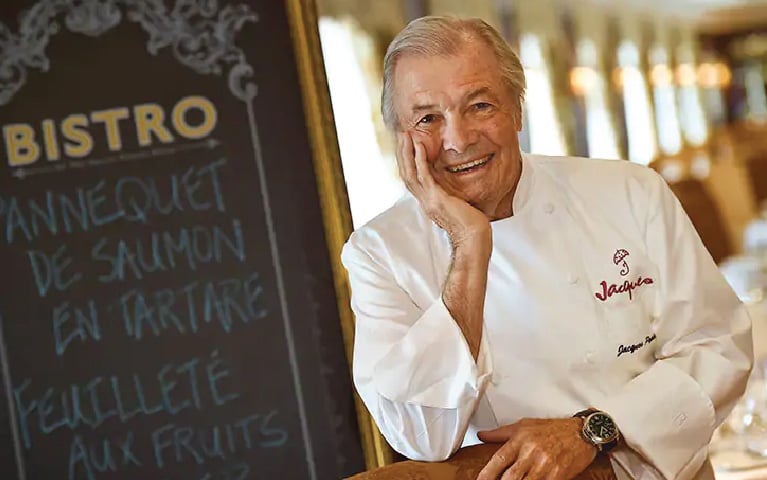 Finest Cuisine at Sea
Oceania scrutinizes a level of quality, whether it's their authentic Italian dishes, Polo Grill's steakhouse, bold Asian flavours or French gourmet delights. Guests can expect Five-star menus crafted under the watchful eye of world-renowned Master Chef Jacques Pépin, the line's Executive Culinary Director.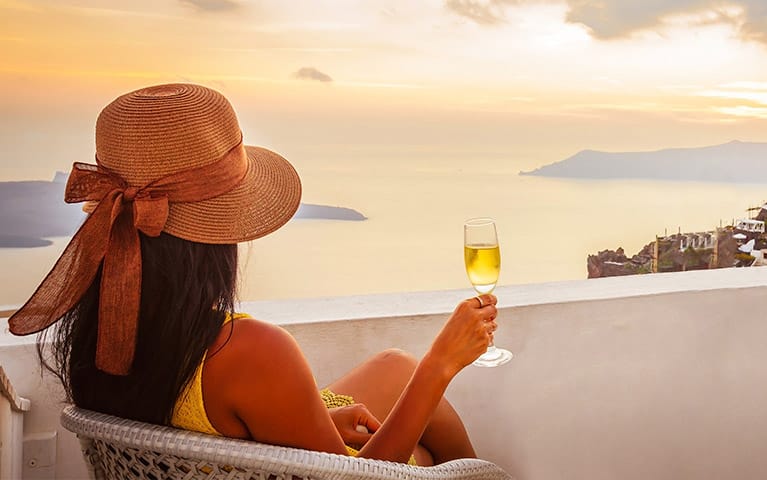 Destinations
Oceania Cruises bring you the vast treasures of the world in a way that no one else can. Authentic experiences that elevate your travels to a new level.  Travel to the most vibrant and renowned destinations with our small, luxurious ships, which call on smaller ports and remote harbors that larger vessels simply cannot.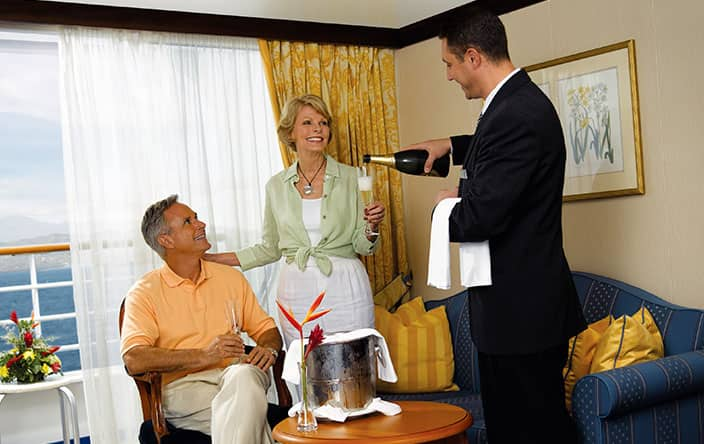 Comfort
Oceania's elegant mid-size ships feature large-ship amenities. With an extraordinarily high staff-to-guest ratio (1 to 1.6), guests can expect gracious, personalized service with your every request attended to. Suite and stateroom attendants are carefully selected from the world's finest 5-star hotels.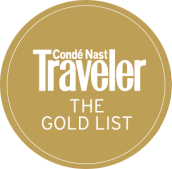 Gold List Award
Condé Nast Traveller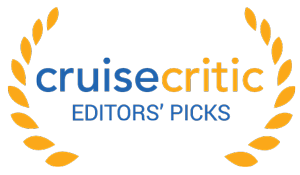 Best Cruise Overall
Cruise Critic
Featured Voyages
SAMPLE VOYAGES ONLY – OTHER VOYAGES AVAILABLE – CALL FOR DETAILS
w/ FREE Roundtrip Air*, Taxes & Fees
A choice of Free Beverage Package
US$400 Ship Board Credit
4 Shore Excursions
SAVE UP TO $1,000**
w/ FREE Roundtrip Air*, Taxes & Fees
A choice of Free Beverage Package
US$800 Ship Board Credit
8 Shore Excursions
SAVE UP TO $1,200**
w/ FREE Roundtrip Air*, Taxes & Fees
A choice of Free Beverage Package
US$800 Ship Board Credit
8 Shore Excursions
SAVE UP TO $1,700**
w/ FREE Roundtrip Air*, Taxes & Fees
A choice of Free Beverage Package
US$800 Ship Board Credit
8 Shore Excursions
SAVE UP TO $870**
w/ FREE Roundtrip Air*, Taxes & Fees
A choice of Free Beverage Package
US$800 Ship Board Credit
8 Shore Excursions
SAVE UP TO $1,080**
w/ FREE Roundtrip Air*, Taxes & Fees
A choice of Free Beverage Package
US$800 Ship Board Credit
8 Shore Excursions
SAVE UP TO $4,800**
Can't find what you're looking for?
Call us today at 1-866-765-WAVE(9283)
Can't find what you're looking for?
Call us today at 1-866-796-WAVE(9283)
Can't find what you're looking for?
Call us today at 1-866-765-WAVE(9283)
Can't find what you're looking for?
Call us today at 1-866-796-WAVE(9283)
Caribbean / Panama Canal / South America
18 Days – Transit of the Americas
18 Days – Transit of the Americas
Miami to Lima
A choice of FREE: Beverage Package
US$800 Ship Board Credit
8 Shore Excursions
NEW 2022 VOYAGE
CAD PRICES / PER PERSON
Inside
Deluxe Oceanview
Veranda
Concierge Veranda
CAD PRICES / PER PERSON
Inside
Deluxe Oceanview
Veranda
Concierge Veranda
Sale
$4,892
$5,889
$6,199
$7,049
With Rountrip AIR*, Taxes & Fees

†Taxes & Fees $
Quote
UP TO
12% OFF
Save up to
$1,700
per couple
20 Days – Southernmost Seafarer
20 Days – Southernmost Seafarer
Lima to Buenos Aires
A choice of FREE: Beverage Package
US$800 Ship Board Credit
8 Shore Excursions
NEW 2022 VOYAGE
CAD PRICES / PER PERSON
Inside
Deluxe Oceanview
Veranda
Concierge Veranda
CAD PRICES / PER PERSON
Inside
Deluxe Oceanview
Veranda
Concierge Veranda
Sale
$7,029
$8,122
$8,549
$9,299
With Rountrip AIR*, Taxes & Fees

†Taxes & Fees $
Quote
UP TO
8% OFF
Save up to
$1,500
per couple
7 Days – Tropical Retreats
7 Days – Tropical Retreats
Roundtrip Miami
A choice of FREE: Beverage Package
US$400 Ship Board Credit
4 Shore Excursions
NEW 2022 VOYAGE
CAD PRICES / PER PERSON
Inside
Deluxe Oceanview
Veranda
Concierge Veranda
CAD PRICES / PER PERSON
Inside
Deluxe Oceanview
Veranda
Concierge Veranda
Sale
$2,374
$2,499
$2,949
$3,449
With Rountrip AIR*, Taxes & Fees

†Taxes & Fees $
Quote
UP TO
15% OFF
Save up to
$1,000
per couple
10 Days – Sun-Splashed Soiree
10 Days – Sun-Splashed Soiree
Roundtrip Miami
A choice of FREE: Beverage Package
US$600 Ship Board Credit
6 Shore Excursions
NEW 2022 VOYAGE
CAD PRICES / PER PERSON
Inside
Deluxe Oceanview
Veranda
Concierge Veranda
CAD PRICES / PER PERSON
Inside
Deluxe Oceanview
Veranda
Concierge Veranda
Sale
$3,467
$3,649
$4,349
$5,299
With Rountrip AIR*, Taxes & Fees

†Taxes & Fees $
Quote
UP TO
18% OFF
Save up to
$1,900
per couple
10 Days – Panama Potpourri
10 Days – Panama Potpourri
Miami to Panama City
A choice of FREE: Beverage Package
US$600 Ship Board Credit
6 Shore Excursions
NEW 2022 VOYAGE
CAD PRICES / PER PERSON
Inside
Deluxe Oceanview
Veranda
Concierge Veranda
CAD PRICES / PER PERSON
Inside
Deluxe Oceanview
Veranda
Concierge Veranda
Sale
$3,847
$4,049
$4,749
$5,849
With Rountrip AIR*, Taxes & Fees

†Taxes & Fees $
Quote
UP TO
19% OFF
Save up to
$2,200
per couple
12 Days – Waves of Wanderlust
12 Days – Waves of Wanderlust
Roundtrip Miami
A choice of FREE: Beverage Package
US$600 Ship Board Credit
6 Shore Excursions
NEW 2022 VOYAGE
CAD PRICES / PER PERSON
Inside
Deluxe Oceanview
Veranda
Concierge Veranda
CAD PRICES / PER PERSON
Inside
Deluxe Oceanview
Veranda
Concierge Veranda
Sale
$4,322
$4,549
$5,499
$6,599
With Rountrip AIR*, Taxes & Fees

†Taxes & Fees $
Quote
UP TO
17% OFF
Save up to
$2,200
per couple
10 Days – Sun-Splashed Soiree
10 Days – Sun-Splashed Soiree
Roundtrip Miami
A choice of FREE: Beverage Package
US$600 Ship Board Credit
6 Shore Excursions
NEW 2022 VOYAGE
CAD PRICES / PER PERSON
Inside
Deluxe Oceanview
Veranda
Concierge Veranda
CAD PRICES / PER PERSON
Inside
Deluxe Oceanview
Veranda
Concierge Veranda
Sale
$3,657
$3,849
$4,649
$5,499
With Rountrip AIR*, Taxes & Fees

†Taxes & Fees $
Quote
UP TO
17% OFF
Save up to
$1,700
per couple
21 Days – Astounding Amazon
21 Days – Astounding Amazon
Rio de Janeiro to Miami
A choice of FREE: Beverage Package
US$800 Ship Board Credit
8 Shore Excursions
NEW 2022 VOYAGE
CAD PRICES / PER PERSON
Inside
Deluxe Oceanview
Veranda
Concierge Veranda
CAD PRICES / PER PERSON
Inside
Deluxe Oceanview
Veranda
Concierge Veranda
Sale
$6,792
$8,122
$8,549
$9,249
With Rountrip AIR*, Taxes & Fees

†Taxes & Fees $
Quote
UP TO
8% OFF
Save up to
$1,400
per couple
12 Days – Amber to Antilles
12 Days – Amber to Antilles
Miami to Oranjestad
A choice of FREE: Beverage Package
US$600 Ship Board Credit
6 Shore Excursions
NEW 2022 VOYAGE
CAD PRICES / PER PERSON
Inside
Deluxe Oceanview
Veranda
Concierge Veranda
CAD PRICES / PER PERSON
Inside
Deluxe Oceanview
Veranda
Concierge Veranda
Sale
$3,989
$4,199
$4,749
$5,549
With Rountrip AIR*, Taxes & Fees

†Taxes & Fees $
Quote
UP TO
14% OFF
Save up to
$1,600
per couple
25 Days – Amazon & the Islands
25 Days – Amazon & the Islands
Roundtrip Miami
A choice of FREE: Beverage Package
US$ Ship Board Credit
Shore Excursions
NEW 2022 VOYAGE
CAD PRICES / PER PERSON
Inside
Ocean View
Veranda
Concierge Level Veranda
CAD PRICES / PER PERSON
Inside
Ocean View
Veranda
Concierge Level Veranda
Sale
$7,552
$7,979
$11,019
$11,684
With Rountrip AIR*, Taxes & Fees

†Taxes & Fees $
Quote
UP TO
5% OFF
Save up to
$1,230
per couple
Can't find what you're looking for?
Call us today at 1-866-765-WAVE(9283)
Can't find what you're looking for?
Call us today at 1-866-796-WAVE(9283)
Can't find what you're looking for?
Call us today at 1-866-765-WAVE(9283)
Can't find what you're looking for?
Call us today at 1-866-796-WAVE(9283)
14 Days – Splendors Down Under
14 Days – Splendors Down Under
Sydney to Auckland
A choice of FREE: Beverage Package
US$800 Ship Board Credit
8 Shore Excursions
NEW 2022 VOYAGE
CAD PRICES / PER PERSON
Inside
Deluxe Oceanview
Veranda
Concierge Veranda
CAD PRICES / PER PERSON
Inside
Deluxe Oceanview
Veranda
Concierge Veranda
Sale
$7,362
$7,749
$8,699
$10,949
With Rountrip AIR*, Taxes & Fees

†Taxes & Fees $
Quote
UP TO
21% OFF
Save up to
$4,500
per couple
14 Days – Tasman Tapestry
14 Days – Tasman Tapestry
Auckland to Sydney
A choice of FREE: Beverage Package
US$800 Ship Board Credit
8 Shore Excursions
NEW 2022 VOYAGE
CAD PRICES / PER PERSON
Inside
Deluxe Oceanview
Veranda
Concierge Veranda
CAD PRICES / PER PERSON
Inside
Deluxe Oceanview
Veranda
Concierge Veranda
Sale
$8,027
$8,449
$9,449
$11,649
With Rountrip AIR*, Taxes & Fees

†Taxes & Fees $
Quote
UP TO
19% OFF
Save up to
$4,400
per couple
18 Days – South Pacific Spotlight
18 Days – South Pacific Spotlight
Papeete to Los Angeles
A choice of FREE: Beverage Package
US$800 Ship Board Credit
8 Shore Excursions
NEW 2022 VOYAGE
CAD PRICES / PER PERSON
Inside
Oceanview
Veranda
Concierge Veranda
CAD PRICES / PER PERSON
Inside
Oceanview
Veranda
Concierge Veranda
Sale
$5,699
$6,174
$7,932
$8,264
With Rountrip AIR*, Taxes & Fees

†Taxes & Fees $
Quote
UP TO
5% OFF
Save up to
$870
per couple
Can't find what you're looking for?
Call us today at 1-866-765-WAVE(9283)
Can't find what you're looking for?
Call us today at 1-866-796-WAVE(9283)
Can't find what you're looking for?
Call us today at 1-866-765-WAVE(9283)
Can't find what you're looking for?
Call us today at 1-866-796-WAVE(9283)
Can't find what you're looking for?
Call us today at 1-866-765-WAVE(9283)
Can't find what you're looking for?
Call us today at 1-866-796-WAVE(9283)
Can't find what you're looking for?
Call us today at 1-866-765-WAVE(9283)
Can't find what you're looking for?
Call us today at 1-866-796-WAVE(9283)