SHIP INFORMATION
Click here for the deck plan Insignia radiates her own unique warmth and character. Her distinctive personality shines through from the moment you first step into her newly redesigned, neo-classical lobby or Toscana, resplendent in rich new fabrics and furnishings that reflect the charisma of Tuscany. Insignia boasts decks and verandas graced with the finest teak and exquisite custom stone and tile work. To ensure the elegance shines throughout the entire experience, there is all new Villeroy & Boch china, the finest silver and crystal, and a distinctive museum-quality art collection that is an eclectic melding of traditional and contemporary, with a touch of whimsy.
Entertainment & Onboard Shows
If you're an arts aficionado, you'll find our entertainment lively and engaging. Evenings aboard can be anything you desire. Marvel at the continuously changing talented guest entertainers as you delight in themed music sets and colorful folkloric shows inspired by your locale. Relax to the classical melodies of the string quartet. Chat with newfound friends over cocktails in Martinis as you enjoy the live piano music. Attend a spectacular production show in the Lounge, dance the night away in Horizons to the sounds of a marvelous musical group or show your talent at karaoke. Bold and crowd-thrilling, nostalgic and upbeat, or intimate and sophisticated – whatever you choose, the night is yours.
Nautica's versatile and talented cast performs the following diverse production shows:
4 on the Floor
A musical tribute to legendary groups of four, 4 on the Floor brings you the rhythms of The Four Seasons, ABBA, the Mamas and the Papas, The Beatles and many others.
Tuxedo
Tuxedo presents a fresh take on the music of the Rat Pack, the Great American Songbook and the music of legends such as Tony Bennett, Natalie Cole, Frank Sinatra and many more.
Acoustic Sessions
Acoustic Sessions presents the most recognizable pop music of the last four decades in an "unplugged" acoustic-style live-band setting.
Get on the Floor and Dance
Get on the Floor and Dance is a tribute to the music of dance and features iconic, hit music from artists like Gloria Estefan, Michael Bublé, Christina Aguilera and Brian Setzer.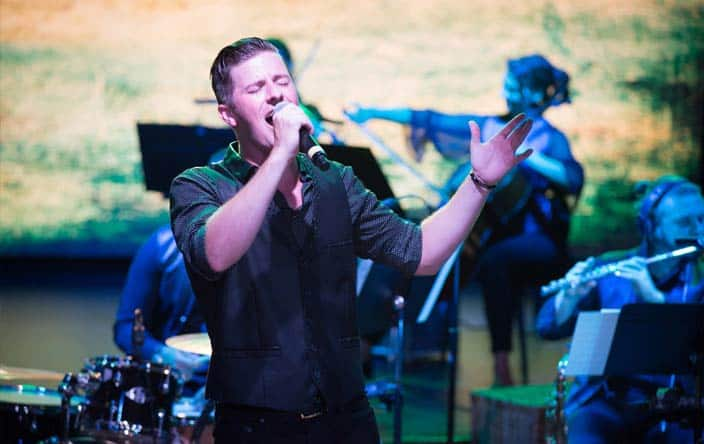 Suites and Staterooms
After a day spent exploring the world's delights,  your luxurious suite or stateroom provides a welcoming retreat. Designed with an eye for exquisite detail and supreme comfort, our spacious accommodations ensure that you always feel perfectly at home. From the gracious furnishings to the upscale toiletries, every amenity you could imagine is right at your fingertips. Whether you are indulging in the complimentary room service or lounging on the heavenly Ultra Tranquility Bed, this is the ultimate sanctuary in which to relax and recharge.
Every suite and stateroom features the Ultra Tranquility Bed, an Oceania Cruises exclusive

FREE and unlimited soft drinks and bottled water replenished daily in your refrigerated mini-bar

24-hour Butler service in all suites

Wireless Internet access

Bulgari Amenities 

Signature Belgian chocolates with nightly turndown service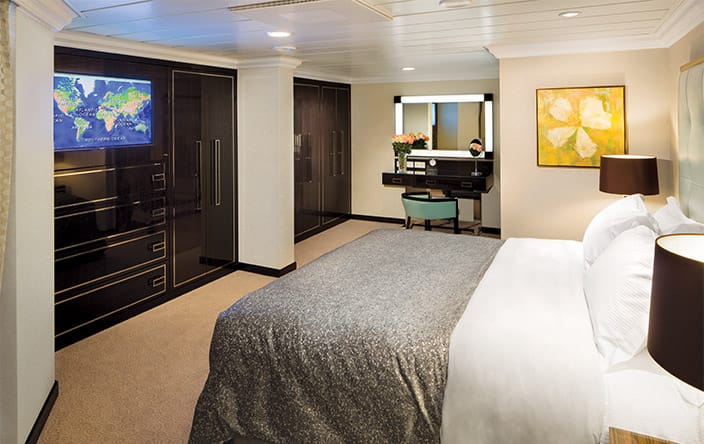 OWNER'S SUITE | Category  OS
Lavish fabrics and designer furnishings grace our six Owner's Suites – always among the first to be reserved. Immensely spacious and exceptionally luxurious, these
suites span nearly 1,000 square feet and are oases of quietude and relaxation. Every imaginable amenity is found here, further enhanced by a sumptuous re-designed bathroom with an oversized shower, a private teak veranda, two flat-screen televisions and an iPad® for your personal use.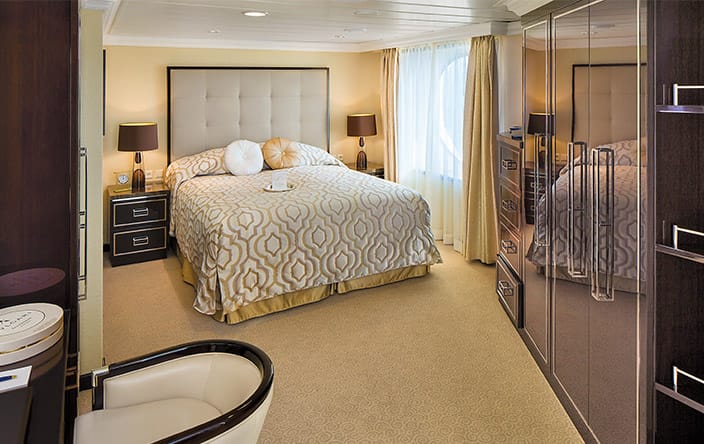 VISTA SUITE | Category  VS
Named for their sweeping views over the ship's bow, our four Vista Suites feature a calming palette echoing the serene seas and expansive skies. Each sprawl over 786 square feet and offer every imaginable comfort, including a second bathroom for guests as well as a master bathroom finished in onyx, Carrara marble and granite with a luxurious shower. Relax on your teak veranda, watch a DVD on one of two flat-screen televisions, or access the Internet on the provided iPad®.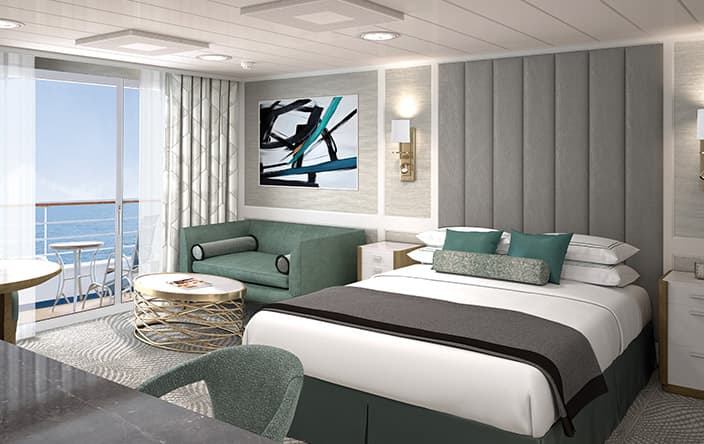 PENTHOUSE SUITE | Category PH1 | PH2 | PH3
Our collection of 322-square-foot Penthouse Suites is adorned with sumptuous designer fabrics and furnishings in serene shades of the sea and sky. Spacious enough for private in-suite dining, the living area features a refrigerated mini-bar and vanity desk, and the sleekly transformed bathroom features luxury stone finishes and a shower.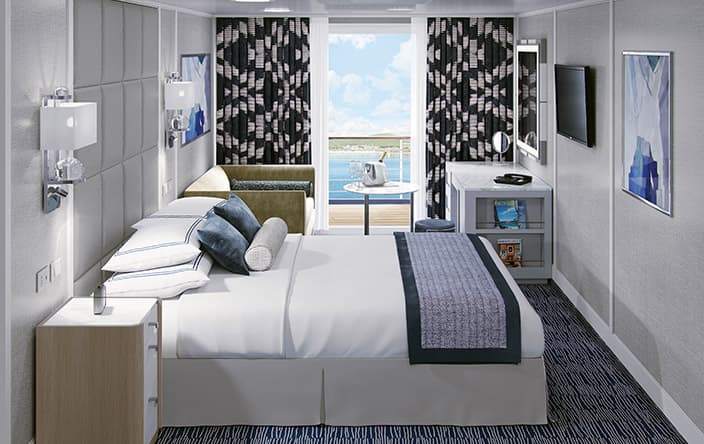 CONCIERGE LEVEL VERANDA STATEROOM | Category A1 | A2 | A3
These sleekly redefined 216-square-foot staterooms feature a wealth of amenities, including many of those found in our Penthouse Suites. The luxury is further enhanced by the fresh décor, sumptuous Ultra Tranquility Beds, re-inspired verandas with stylish new furniture and the indulgence of exclusive Concierge Level amenities and privileges.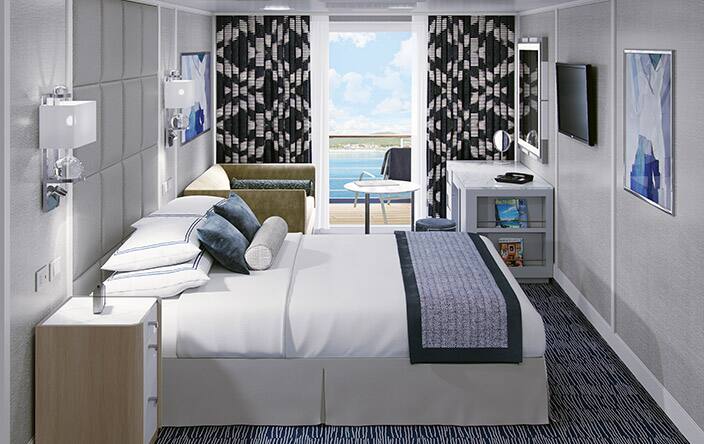 VERANDA STATEROOM | Category  B1 | B2
Elegant decor graces these handsomely appointed 216-square-foot staterooms that boast our most popular luxury – a private teak veranda for watching the ever-changing panoramas. The conveniences within each stateroom are just as accommodating and include a vanity desk, refrigerated mini-bar, breakfast table and spacious seating area.
DELUXE OCEAN VIEW STATEROOM | Category C1 | C2
With entirely re-designed closets, dressers and vanities, these 165-square-foot staterooms feel even more spacious. A generous seating area, vanity desk, refrigerated mini-bar and breakfast table are perfectly complemented by the soothing hues and stylish fabrics of the sleek new décor.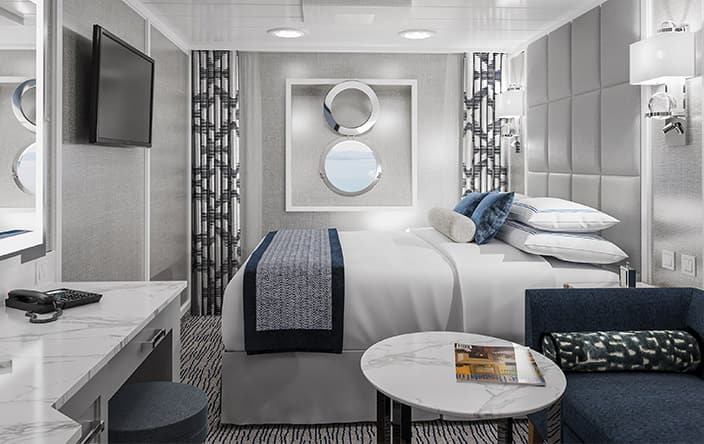 OCEAN VIEW STATEROOM | Category  D
The light from a classic porthole illuminates the sophisticated new décor in these exquisitely appointed 165-square-foot staterooms. Enjoy a comfortable seating area with a sofa on which to stretch out, as well as a vanity desk, breakfast table and refrigerated mini-bar.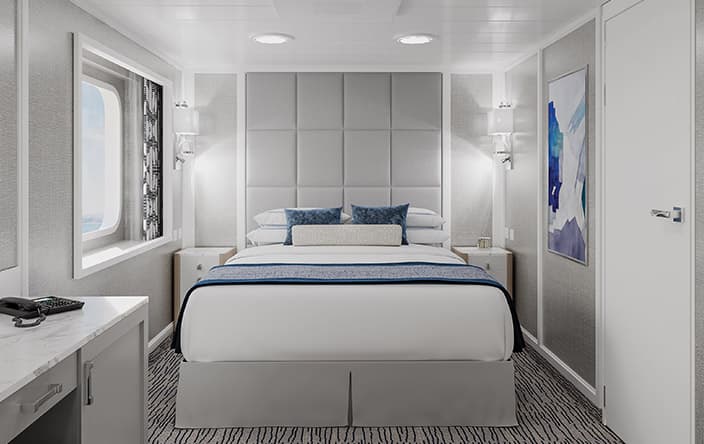 OCEAN VIEW STATEROOM | Category E
Centrally located on deck 6, these 143-square-foot staterooms offer a fresh palette and a panorama window with obstructed views. Features include a vanity desk, refrigerated mini-bar, small breakfast table and an ample closet.
INSIDE STATEROOM | Category F | G
Beautifully designed with a modern flair, these private retreats boast 160 square feet of luxury. Highlights include a comfortable seating area, vanity desk, refrigerated minibar and plenty of storage. The ingenious use of space is complemented by the rich décor.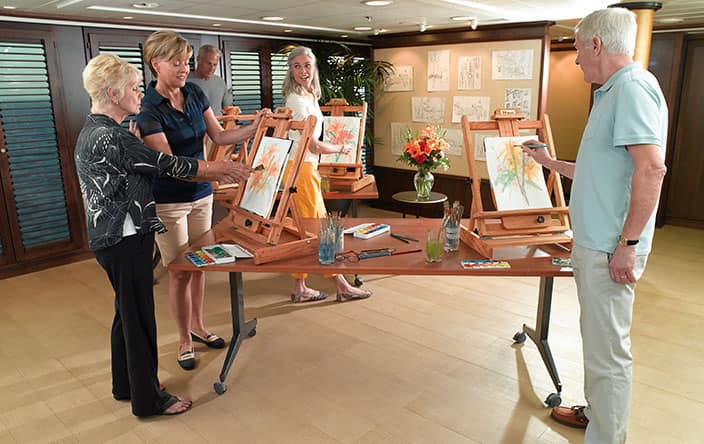 Artist Loft
For budding artists, there is the Artist Loft enrichment center, where talented artists-in-residence offer step-by-step instruction. Under their watchful eye, you may paint with oils or watercolors, sketch or create collages. The courses change continually and are designed with every level in mind, so everyone from beginners to seasoned professionals will find the classes engaging and enriching. With the masters' guidance, your talents will quickly blossom.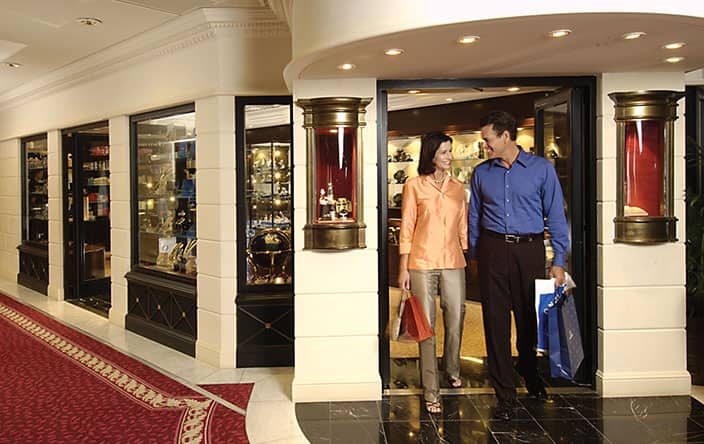 Boutiques
Our three stylish boutiques feature a bounty of items ranging from sundries to designer casual wear. Feel free to browse through our array of duty-free merchandise including fine jewelry, fragrances and Oceania Cruises logo wear.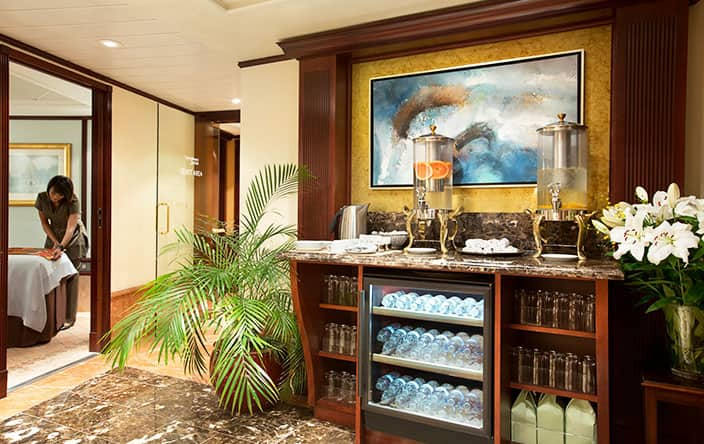 Canyon Ranch SpaClub®
More Than a Spa
Healthy living and spiritual awareness are at the very heart of the Canyon Ranch philosophy. Pushing the boundaries of spa services well beyond the traditional, its award-winning health resorts have been transforming lives since 1979, when the first one was created in Arizona's spectacular Sonoran Desert. Oceania Cruises and Canyon Ranch have recreated that unique, inspiring environment on board our ships. Through fitness, exquisite Canyon Ranch cuisine and a multitude of healing therapies, you can discover ways to unleash your untapped potential and make positive changes in your life. Of course, the star element of any Canyon Ranch experience is a spa treatment that will leave you wondering how anything could feel quite so perfect.
Restore and Revitalize
Lose yourself in deep relaxation with a signature Canyon Stone Massage or perhaps a Thai Massage, which originated in Buddhist monasteries. Ease into the soothing waters of the private, open-air whirlpool spa. All Concierge Level and Suite guests enjoy FREE unlimited access to the beautifully appointed Canyon Ranch SpaClub private Spa Terrace. More opportunities await you in the state-of-the-art fitness center, where you may exercise on the latest fitness equipment or join a class in indoor cycling, aerobics, Pilates or yoga. We encourage you to attend complimentary presentations on how to enhance nutritional balance and spiritual wellness.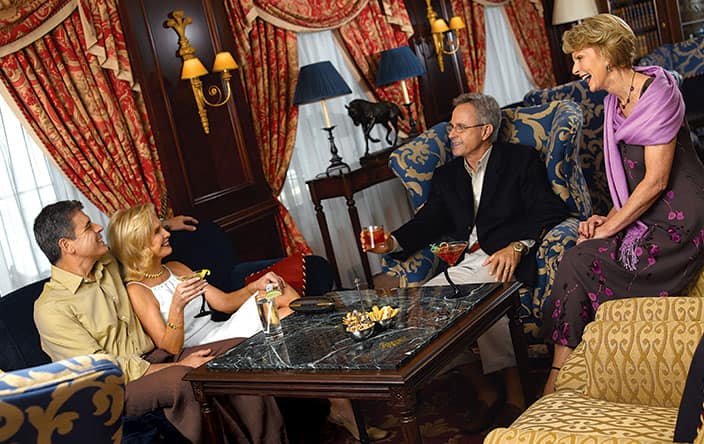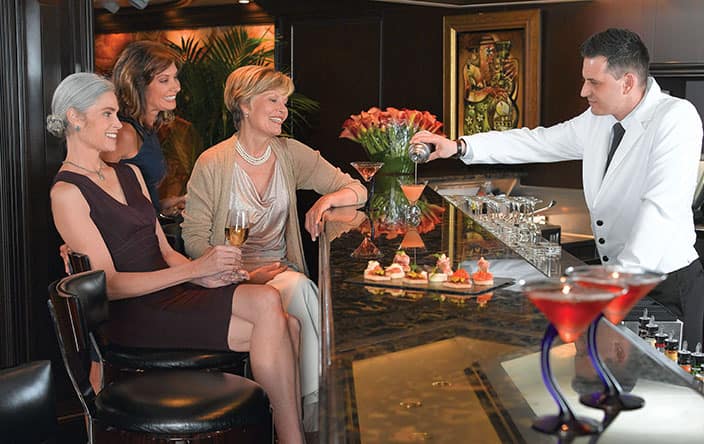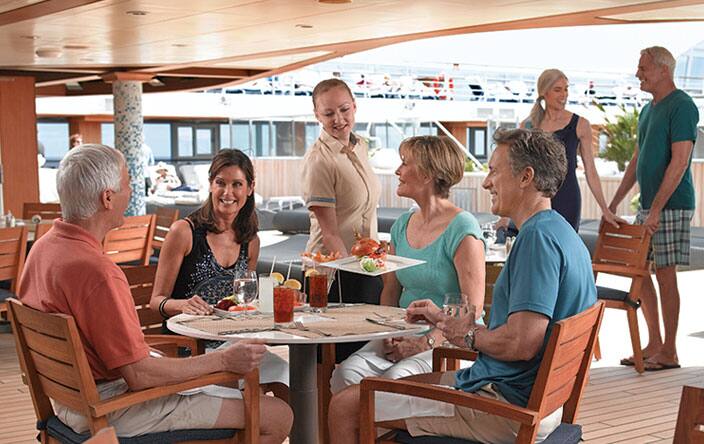 Bars & Lounges
Martinis
Martinis serves numerous incarnations of this famous cocktail in an intimate atmosphere reminiscent of a private gentleman's club, featuring live piano music.
Grand Bar
Before enjoying a gourmet meal, sample a rare vintage or imbibe your favorite libation as you enjoy spirited conversation with new found friends amid the opulence of the convivial Grand Bar.
Lounge
From headline acts to comedians and magicians to lively jazz ensembles, the Lounge is the center of nightly entertainment aboard Oceania Cruises.
Horizons
An elegant observation lounge with dramatic floor to ceiling windows and a country club casual ambiance, Horizons features our beloved teatime by day and transforms into a sophisticated evening venue by night. Dance the night away to the sounds of a lively musical group and enjoy cocktails with friends at the convivial bar. 
Waves Bar
Located in shaded area steps from the swimming pool, Waves Bar offers a wide variety of libations to enhance your poolside experience. A perfect afternoon on the deck with your favorite cocktail or a glass of wine or beer can be further enhanced with a decadent dessert such as a creamy homemade gelato, a made-to-order hot fudge sundae or a thick, hand-dipped milkshake. Nearby, at Waves Grill, chefs grill gourmet burgers, tangy barbecue and succulent seafood to order in the open galley, accompanying them with the side dishes like garden-fresh salads and crispy, hand-cut truffle fries dusted with grated aged parmesan.
Pool & Sports Deck
On the sparkling Pool Deck, take a refreshing dip in the large heated pool or relax in one of the two whirlpool spas. Plenty of comfortable chaises and luxurious day beds invite you to lounge poolside while you sip your favorite cocktail. For more active pursuits, head to the Sports Deck high atop the ship. As you take in the fantastic views, enjoy some friendly competition on the shuffleboard court or play nine holes of golf on the putting greens.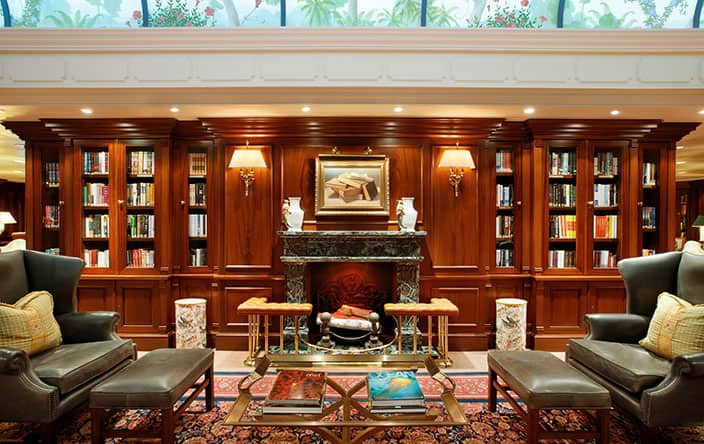 Library
Enrich your mind in the tranquility of our English-style Library with over 2,000 books and periodicals ranging from destination-specific guide books to best-selling mysteries to classic literature.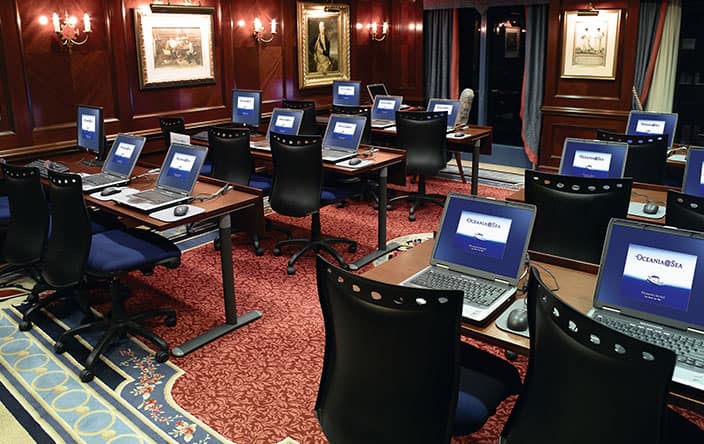 Stay Connected
Oceania @ Sea Computer Center
Stay connected with family and friends or monitor business developments in our 24-hour Internet center, [email protected] For personalized service, [email protected] is fully-staffed on both sea days (8 a.m. – 7 p.m.) and port days (8 a.m. – 11 a.m. and 3 p.m. – 7 p.m.).
Internet and Phone
Oceania Cruises also offers wireless Internet access throughout the ship, allowing you to connect through your laptop or mobile device. Guests in suites are provided with a laptop. And as an added convenience, guests in all Owner's and Vista Suites will have the use of an iPad® throughout the voyage. Beginning in Winter of 2015, guests in Concierge Verandas and Penthouse Suites will enjoy a FREE Internet Package, and guests in Oceania, Vista and Owner's Suites will enjoy FREE Unlimited Internet. Learn more
Mail
Letters and postcards with the appropriate postage can be mailed at the Reception Desk. Postage for mail may be purchased at the Reception Desk for a nominal fee. Mail will be collected one hour prior to sailing from each port of call.
Incoming mail or faxes received by the ship on your behalf will be delivered directly to your stateroom.
Wireless Communications Service
Oceania Cruises offers Wireless Maritime Services (WMS) for all GSM mobile phones and GPRS devices such as Blackberry® when the ship is at sea.
You can make and receive phone calls, send and receive text messages and use other data services when the ship is at sea. You will be billed by your mobile phone provider and calls or messages will appear as roaming charges on your bill. While using the WMS service, international maritime roaming rates will apply. Please consult your wireless service provider for detailed rates and service zones.