OPTIONAL: 2-Night Post-Cruise Hotel and Tour of Cappadocia
August 13 – 15, 2021  |  $3,899 CAD per couple*
EXTRA $149 per person Taxes/Fees/Gratuities
 What is Included:
Domestic roundtrip flight from Istanbul to Cappadocia
All Transfers
All Hotel accommodations including breakfast daily in a superior Deluxe Hotel
All meals as stated in the tour description
All tours/entrance fees as described
Luggage porterage
Secure luggage storage in Istanbul for main cruise luggage
Basic gratuities for the guides/drivers
Cancellation & Interruption Insurance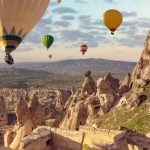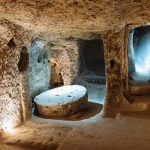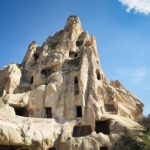 August 13, 2021
This morning after breakfast, you will disembark the World Navigator for the next leg of your adventure – Cappadocia!
You will fly from Istanbul to Kayseri and transfer to the heart of the most fascinating region of Turkey – Cappadocia!  Cappadocia will thrill you with its unique landscapes formed by erosions of wind and water.  Today's inactive volcanoes of Erciyes and Hasan used to be active thousands of years ago and had erupted continuously covering the region with a blanket of tuff that gets eroded so easily due to its soft character.
Arriving into Cappadocia, you will visit the Kaymakli Underground City, a subterranean settlement composed of troglodytic cave dwellings, where early Christians lived protecting themselves from invaders.  Once you start hearing your guide, you will be impressed by the self-discipline of the ancient people living in underground cities under such difficult conditions.  You will be hosted for lunch by a local family living in Cappadocia at their home.
After lunch, check into your Cave Hotel for your 2 nights.
This evening, enjoy 'Turkish Nights' at a local restaurant.
Breakfast | Lunch | Dinner
August 14, 2021
This morning you will experience one of your 'Bucket Lists' and one of the highlights of this trip – the magic of a Hot Air Balloon Ride at dawn…
It will be an early wake-up call to depart at 530am for the transfer to the open fields of the Balloon launch site.  You will appreciate the tranquility of our morning over the colourful valleys and rock formations, gliding in your balloon.  After landing, enjoy a glass of champagne to celebrate the joy of seeing Cappadocia from the air.
After arriving back at the hotel, you will have time to freshen up before starting your tour of Cappadocia.  The tour will start with the Monastic Center of Goreme.  Goreme was founded by St. Basil as the first Monastic Center of Christianity during the 4th century.  This morning, you will have an extensive tour of the Monastic Center that functions as an open-air museum, having well-preserved rock-hewn churches decorated with Byzantine frescoes.  You will then appreciate the breathtaking scenery of the Pigeon Valley before continuing to Ortahisar where you will have the opportunity to take photographs of the gorgeous valleys.
Following the photo stop, you will stop at the Three Beauties, iconic rock formations that locals have created many legends about and enjoy taking pictures of the fairy chimneys and valleys with rustic colours.  You will walk through the valleys of Zelve that was a town composed of hundreds of rock-carved houses occupied until 1942.  In Cappadocia, different religions coexisted in harmony for thousands of years and one can see churches and mosques facing each other built into the rock cliffs.  During the Byzantine period, Cappadocia had hundreds of Christian hermits living in their private heritages as well as the monastic centers where Christianity was institutionalized.  Touring Pasabag Valley, you will adore the view of the tower-shaped hermitages that look as if they have been sculptured by contemporary artists!
Lunch will be at a local restaurant during the tour.
The Women of Cappadocia are known for their talent in handicrafts and have been weaving the finest rugs of Turkish folk arts in the region for many centuries.  Today, you will have the chance of visiting one of the local weaving courses where you can blend with the local Cappadocian people and see how they compose their 'woven poetry'!  The last stop of today's touring before returning to the hotel is Avanos, the famous town of Cappadocia that was established by the Hittites on the riverbanks of the Halys River.  Making use of the red clay that is obtained from the shores of this famous river, Hittites creates outstanding examples of pottery ware and used potters wheels as early as 2nd millennia BC.
This evening dinner will be at a local restaurant.
Breakfast | Lunch | Dinner
August 15, 2021
After a delicious breakfast, you will be transferred to the airport for your flight to Istanbul to connect with your return flight to North America.

OPTIONAL: 2-Night Pre Cruise Hotel & Tour in Athens
July 26 – 28, 2021
Only $2,599 CAD per couple*
Enjoy our exclusive welcome dinner and f full day city tour of Athens.