13

CPA 23rd ICPD ASIA
Shanghai to Tokyo

Celebrity Millennium

Staff Psychiatrist, Clinician Scientist
Medical Head, Ambulatory Services
Lead Psychiatrist, Partial Hospital Program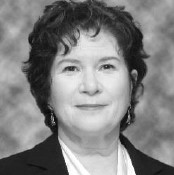 Associate Professor of Psychiatry at University of Toronto, holds the Morgan Firestone Psychotherapy Chair at Mount Sinai Hospital.
Destination Report Beijing Overland
Pre Cruise Package – Shanghai & Xian Post Cruise Package – Tokyo
Companion Travels and Flies FREE
Up to 35 CPD hours

INCLUDES
1. Classic Beverage Package for two (Value of $92 per person per night)
2. Choice of 1 Perk for 1st and 2nd guests
Shipboard Credit  (Value of up to $300USD/ cabin)
FREE unlimited Wi-Fi (2 accounts/ cabin based on double occupancy)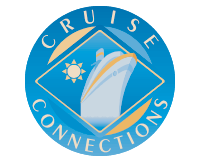 CRUISE CONNECTIONS CME
604–1201 West Pender Street Vancouver BC Canada V6E 2V2
1–888-523-3732
Intl: (+)1-604-684-9283
Accommodation Rates: (in CAD)* 
Delegate
(with Air)
Companion+
CPD Fee **
Inside Stateroom
SOLD OUT

FREE

CPA member
$1,695
Oceanview Stateroom
From $10,499

FREE

Non CPA member
$1,895
Balcony Stateroom
From $11,599

FREE

Concierge Class Stateroom
From $12,599

FREE

Cruise Taxes/Fees/Gratuities:
 Aqua Class Stateroom
 Please Call

FREE

Per person $389
Payment Information:
3rd Guest in Stateroom
Please Call
Full payment at the time of booking
| | | | |
| --- | --- | --- | --- |
| DATE | PORT/CITY | ARR. | DEP. |
| Sat, Mar 28 | Shanghai, China | | 5:00 PM |
| Sun, Mar 29 | At Sea | — | — |
| Mon, Mar 30 | Seoul, South Korea | 7:00 AM | 7:00 PM |
| Tue, Mar 31 | At Sea | — | — |
| Wed, Apr 1 | Beijing (Tianjin), China | 6:00 AM | — |
| Thu, Apr 2 | Beijing (Tianjin), China | — | — |
| Fri, Apr 3 | Beijing (Tianjin), China | — | 6:00 PM |
| Sat, Apr 4 | At Sea | — | — |
| Sun, Apr 5 | Jeju Island, South Korea | 8:00 AM | 6:00 PM |
| Mon, Apr 6 | At Sea | — | — |
| Tue, Apr 7 | Kyoto (Osaka), Japan | 8:30 AM | — |
| Wed, Apr 8 | Kyoto (Osaka), Japan | — | 4:20 AM |
| Wed, Apr 8 | Kobe, Japan | 7:00 AM | 4:00 PM |
| Thu, Apr 9 | Mt. Fuji Shimizu, Japan | Noon | 8:00 PM |
| Fri, Apr 10 | Tokyo (Yokohama), Japan | 8:30 AM | |
Shanghai, China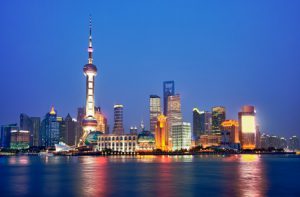 Located at the mouth of the Yangtze River, this seaport is a vigorous modern metropolis with a rich Chinese heritage. Your trip to Shanghai is not complete without strolling the Bund, a colonial-era street with neoclassical and art deco architecture, or visiting the Jade Buddha Temple or the beautiful Yu Gardens. Don't forget to stop and pick up authentic Chinese souvenirs in the Old City God's Temple Market.
Beijing (Tianjin), China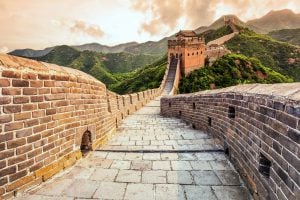 The sixth largest ancient city in the People's Republic of China, Tianjin is the home of the respected Beijing opera and the Monastery of Deep Compassion, a leading Buddhist shrine. The city has also served as the center of China's political and social fabric for more than 3,000 years and is one of the most popular tourist destinations in the world. From the great wall of China to modern art and fashionable malls, there's so much to discover on a Beijing cruise.  And don't miss the Tianjin Eye while in port. It's a 390-foot tall Ferris wheel built right above the Yongle Bridge. You can also hunt for silverware, porcelain, clocks and memorabilia in the Antique Market and visit the iconic Tianjin Museum, whose architecture mimics the shape of a swan spreading its wings.
Seoul, South Korea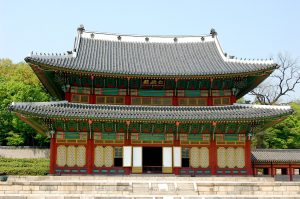 Incheon is South Korea's third-largest metropolis and the largest seaport on the west coast. This capital city is a mix of modern skyscrapers, sophisticated complexes (like the 1988 Olympic Games complex), ancient palaces, Buddhist temples and tranquil gardens. It offers memorable experiences such as watching the sunset over the ocean from a garden bench, wiggling your toes in fine, silver sand, sitting on the rocks along the shore, sports fishing for the day and being dazzled by red and blue silk-covered lanterns lighting up the trees at night. Hike to either the top of Bukhan Mountain or Namsan Mountain, where you'll enjoy 360-degree views of downtown Seoul.
Cheju City, South Korea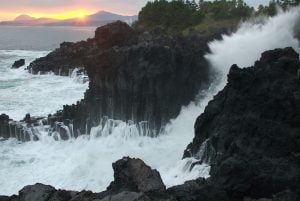 South Korea's tropical island paradise will enchant you with its sandy beaches, swaying palm trees and amazing volcanic landscape. Need a break from your beach towel? Waterfalls, museums, folk villages, scuba diving, hiking and festivals galore will keep you busy. Explore the colorful coral and sea life with a scuba dive off the coast of laid-back Seogwipo. Take an underground stroll through the world's longest lava-tube cave at Manjanggul.
Kobe, Japan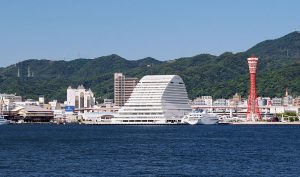 Perched on a hillside overlooking the sea, Kobe is one of Japan's most attractive and cosmopolitan cities. Home of the heralded Kobe beef, this small city is easily navigated. Visit the Hatsukura Sake Brewery Museum for a tour or dine in one of the area's incredible restaurants.
Shimizu, Japan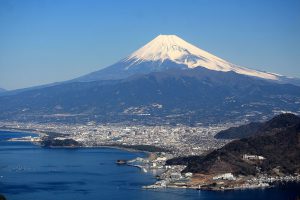 On clear days, particularly in winter, Mount Fuji (Fuji-san in Japanese) is visible from as far as Tokyo, 60 miles away. When Japan's highest mountain is capped with snow, it's a picture-postcard perfect volcanic cone. One of the best-known symbols of Japan, this iconic mountain has been considered sacred since ancient times and was even forbidden to women until the early 1900s.
Tokyo (Yokohama), Japan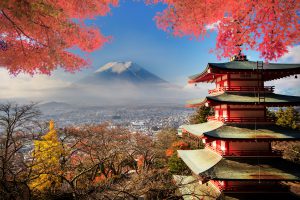 There aren't many places on Earth that blend ancient tradition and the ultra-modern quite like Tokyo. Centuries-old gardens and cobblestone laneways live in perfect harmony with soaring skyscrapers and dazzling neon lights. Get immersed in an unrivalled dining scene, fashionable boutiques, and endless cultural encounters in this ever-evolving city.
| | |
| --- | --- |
| 151+ days in advance | 0% |
| 150-121 days in advance | $500 |
| 120-101 days in advance | 25% of the total price |
| 100-91 days in advance | 50% of the total price |
| 90-60 days in advance | 75% of the total price |
| 59 days in advance to sailing date | Non-Refundable |
All funds stated in CAD dollars. * Stateroom prices include all onboard accommodation, meals in the main restaurants, activities and events as described. **FREE Air from YYZ, YUL, YVR – Low air add-ons available from other air gateways. Package Fare is subject to change until air is ticketed. *Some airline-imposed personal charges, including but not limited to baggage, priority boarding, and special seating, may apply. Transfers are not included. **CPD Fees subject to GST/HST at the time of Final payment. Final Payment is due 150 days prior to departure.
Cruise Connections CME reserves the right to change or cancel course content, speaker or topics for cause.
* Please ensure that passport is valid for 6 months after the return date you have 2 consecutive blank visa pages in your passport. Visa is required for China.
If you do not book your cruise with Cruise Connections CME, an additional $500 plus GST or HST will be added to the applicable CPD Delegate fee