Lifestyle and Activities
Excursions – True Discoveries Never Start by Following the Crowds.
No two travellers are alike – so, why on earth should Avalon expect you to enjoy the same things? With more expertly-led discovery options than any other cruise line, Avalon make it possible for you to explore each port according to what intrigues you most.
Avalon's inspired, 360-degree, engaging cruise experiences afford travellers the chance to immerse themselves into a destination and culture thanks to award-winning land programs and world-class guides. Avalon's Naturalists (in the Galápagos and the Amazon), Cruise Directors (in Europe – Southeast Asia) and special guest lecturers also offer them a vast onboard educational program, giving cruisers the chance to soak in the history and culture of a region as they drift from village to village or island to island.
It's not easy to be an expert on everywhere. Thanks to Avalon's relationship with Globus – an award-winning tour company with 85+ years of experience and 300 support staff on the ground in 65 countries around the world — Avalon's cruisers are privy to the best, all-inclusive land programs available.
We transform tourists into travellers and storytellers and help them truly experience each destination with guided sightseeing in every port (complete with headsets), daily port lectures, VIP access into key destinations, no waiting in lines and great cultural immersion and storytelling thanks to highly skilled Cruise and Tour Directors.
Bikes & Biking Excursions
In the mood to explore like a local? Your Avalon ship has bicycles you can check out and use around many port towns for free. Plus, adding to Avalon's already robust roster of activities, Avalon have partnered with bicycle tour specialists in Amsterdam, Bernkastel, Cochem, Durnstein, and Breisach for optional, guided excursions.
Stroll Along Ancient Roads & Feel the Strange Become Familiar.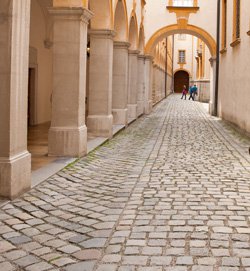 At Avalon, Avalon never lose sight of the reason you're travelling – to see the people, places, and sights on shore. And because Avalon're part of the Globus family of brands, Avalon're backed by more than 89 years in the travel business… which means you'll experience the world in a way that no other river cruise operator can deliver!
Included Guided Sightseeing & Excursions
When it comes to showing you the world, Avalon select the very best guides and professionals who are certified locally in each destination and selected by the Globus family of brands. These Certified Local Guides are recognized for their expertise, enthusiasm, and knowledge of the area. They will lead you on engaging, included sightseeing tours, delivering genuine, behind-the-scenes destination experiences. You'll even benefit from the use of personal headsets for sightseeing, which gives you the freedom to roam through some of Europe's most famous attractions without missing a moment of fascinating commentary.