Active & Discovery in Holland & Belgium
Amsterdam to Amsterdam
Apr - Aug 2021
Active & Discovery in Holland & Belgium
Apr - Aug 2021 | Amsterdam to Amsterdam
starting from:
w/ FREE Roundtrip AIR*, Taxes & Fees Included
INCLUDES
---
FREE Roundtrip AIR* (select 12 Canadian Cities View Details )
With
FREE Transfers (on the day of embarkation & disembarkation)
FREE Pre-paid Gratuities
(value of $44 CAD/couple/day Onboard, Tour Guides & Drivers)
FREE Drinks


Wine, Beer & Soft Drinks w/ Onboard Lunch & Dinner

FREE Shipboard Credit


(up to US$**)

FREE WiFi
FREE Guided Tours
FREE Bicycles for checkout
ALL Government Taxes & Fees Included
PLUS Travel Insurance‡
Trip Cancellation & Trip Interruption


NO AGE LIMIT

|

PRE-EXISTING CONDITION WAIVED

|

NO MEDICAL QUESTIONNAIRE


See: Summary of Coverage / Insurance Policy/ Resolution Policy

Cruise Connections Specials (CAD)
w/ FREE Roundtrip AIR*, Taxes & Fees Included
Panorama
FROM /
PER PERSON
Apr 28, 2021
aboard
Artistry II
MARKET FARE
MARKET
TORONTO
VANCOUVER
Jul 20, 2021
aboard
Visionary
MARKET FARE
MARKET
TORONTO
VANCOUVER
Aug 16, 2021
aboard
Tranquility II
MARKET FARE
MARKET
TORONTO
VANCOUVER
*Free Roundtrip Economy Airfare from the following gateways: Calgary, Edmonton, Halifax, Montreal, Ottawa, Quebec City, Regina, Saskatoon, Toronto, Vancouver, Victoria, Winnipeg. Other Canadian gateways also available with an air add-on of $199 CAD per person. Transfers included with Avalon Air during embarkation and disembarkation days and where Hotel Program was included by Avalon for the cruise.
Amsterdam to Amsterdam
Avalon has designed included activities with a choice of experiences. We invite you to select the tours, activities, and events that interest you most, so you can experience your cruise your way. There are 3 types of included shore excursion on every Europe cruise:
Classic
Your local expert is ready to guide you through the history and heritage of local destinations. You'll marvel at the legends, lore, and spectacular architecture of iconic and historic sites.
Discovery
We've found inspiring and interactive activities to speak to your interests - from cooking classes, to painting workshops - to immerse yourself in each culture you explore.
Active
Embark on energetic excursions to keep you in motion and on the go - from a guided jogging tour of Amsterdam, to biking, paddling, and hiking your way through scenic locales.
Plus independent exploration options and use of our exclusive AvalonGO APP.
(B) = Breakfast   (L) = Lunch   (D) = Dinner
AMSTERDAM, HOLLAND (EMBARKATION)
How Suite It Is! Welcome Aboard Your Avalon Suite Ship®.
Flights into Amsterdam must arrive by 3:30 pm.
Guests must be on board ship by 5 pm.
During tulip season, you may take a Guided Optional Excursion to Keukenhof gardens—with more than seven million tulips, daffodils and hyacinths, as well as other bulbs, planted each year.
Outside of tulip season, join a Guided Optional Excursion to Zaanse Schans to see historic windmills and charming Dutch houses.
EVENING/OVERNIGHT CRUISE TO MIDDELBURG
MIDDELBURG
A Castle Moat, an Oyster Farm and Dutch Sea Trade
Join your Adventure Host for today's special activities.
Active
Take a Guided Walk through woods and dunes; see Castle Westhove and farmlands of the beautiful North-Sea area, OR:
Discovery
Join a Guided Tour of the Delta Works, the largest flood-protection system in the world, and a miracle of modern technology, OR:
Discovery
Enjoy a Guided Visit to a family owned Oyster Farm, active in the cultivation of crustaceans and shellfish in the Netherlands since 1906. A taste of oysters and lobster, accompanied with a glass of wine is the perfect ending of this beautiful experience, OR:
Classic
Join a Guided Walking Tour through the winding cobblestones and canals of Middelburg. See the 15th-century Gothic Town Hall and learn about its important role in the spice trade and Dutch East India trading.
EVENING/OVERNIGHT CRUISE TO GHENT
GHENT, BELGIUM
Flemish Artwork and Street Artists
Active
Explore the outskirts of the city and the lesser known sights on a Guided Mountain Bike Tour.
Discovery
Join a Guided Tour of Graffiti Street, where artists create striking spray-can art to their heart's content. And do not miss the chance to become an artist yourself, creating your street art, OR:
Classic
Explore Ghent—"The Diamond of Flanders"— with a Guided Sightseeing Tour of this showcase of medieval Flemish wealth. You'll visit St. Bavo's Cathedral—with its remarkable Flemish artwork.
Alternatively, you may choose to join a full-day Guided Optional Excursion of Bruges to explore its canals, cobbled streets, and medieval buildings.
EVENING/OVERNIGHT CRUISE TO BRUSSELS
BRUSSELS
Ancient Streets, and Chocolate Sweet
Active
Take a Bike Tour to explore Brussels in a fun and eco-friendly way and learn all there is to know about its history and culture. Your local guide will not only show you the must-see sights, but also some hidden spots, OR:
Discovery
Join a Belgian chocolate-making Workshop to learn how to create your own delicious candies. Enjoy a cup of the finest hot chocolate, while crafting traditional confections of pralines and mendiant from scratch, OR:
Classic
Join a Guided Tour of Brussels, see the Town Hall with its landmark buildings, discover the many local bars, cafés, and shops of the Lower Town Streets, and visit the Atomium.
The afternoon is free to explore Brussels —considered home to the European Union, and admire its magnificent palaces and cathedrals.
Later enjoy live entertainment on board.
OVERNIGHT CRUISE TO ANTWERP
ANTWERP
Bike Riding, Brave New Worlds, and Rubens' Art
Join your Adventure Host for today's special activities.
Active
Enjoy a Bike Tour and discover centuries of history and a story around every corner. Don't miss out the unique atmosphere of small neighborhoods and squares, OR:
Discovery
Join a Guided Tour of the Red Star Line Museum. Follow the footsteps of the emigrants, become acquainted with the Red Star Line passengers and accompany them on their trip from their native village via Antwerp to the new world, OR:
Classic
Take a Guided Tour of this sophisticated city to visit the central Grote Markt, lined with 16th-century guildhall houses. You'll also see the beautiful city hall, the Cathedral of Our Lady with its stunning altarpiece paintings by Rubens.
This afternoon take time on your own to indulge in Antwerp's signature Belgian waffles and crêpes—or explore this bike-friendly city from its old wharfs to its legendary diamond district.
EVENING/OVERNIGHT CRUISE TO ROTTERDAM
ROTTERDAM, HOLLAND
Avant-garde Architecture and Art Lessons
Active
Take a unique Architecture Bike Tour to see the architectural highlights of Rotterdam. Do not miss the interesting Cube Houses, the popular Market Hall, the spectacular Erasmus Bridge, the vertical city 'De Rotterdam', and the iconic Central Station. In the city centre, admire how historic buildings lash cheerfully with hypermodern skyscrapers, OR:
Discovery
Attend a Pottery Workshop. In a characteristic painter's room, a professional painter will guide you through the process of painting a Delft tile, OR:
Classic
Join a Guided Sightseeing Tour of Rotterdam featuring unusual collection of cube houses innovative architecture, including the marvelous Erasmus Bridge, and plenty of other fascinating sites.
In the evening, enjoy live entertainment on board.
EVENING/OVERNIGHT CRUISE TO AMSTERDAM
AMSTERDAM
Colorful Canals of Amsterdam
Discovery
Attend a Painting Class and be inspired by the masters' techniques. Paint your own canvas and discover your inner artist. An orientation walk will complete your experience, OR:
Active
Join a Biking Tour through the Dutch countryside past polders, dykes, and quaint centuries-old villages, OR:
Classic
Enjoy a Guided Canal Cruise to explore the iconic waterways and sites of Amsterdam.
This afternoon, choose among the many Guided Optional Excursions available or take some free time to explore Amsterdam's colorful streets and canal houses, galleries, and shops.
OVERNIGHT DOCKING IN AMSTERDAM
AMSTERDAM (DISEMBARKATION)
Your cruise ends with breakfast this morning.
In the event of technical or water level issues, it may be necessary to operate the itinerary by motorcoach or alter the program, including hotel overnight when necessary.
Guided Tours, Optional Excursions, activities, sailing and docking schedules may be contingent on weather conditions or other issues outside of our control and could therefore be subject to change at any time.
Please check visa requirements with your local consulate(s); responsibility for obtaining visas rests with the traveler.
Panorama Suite
---
The Widest View in the Whole Wide World: Your view of the world is about to change for the bigger. Avalon has transformed ordinary cruise cabins into their one-of-a-kind Open-Air BalconySM featuring the only bed with a view in river cruising. Enjoy floor-to-ceiling, wall-to-wall panoramic windows that eliminate the need for a space-wasting balcony, giving you more room to stretch out with 30% more living space than the industry standard. When you retreat to your suite, you'll never miss a moment of the ever-changing views. So dream on before you drift off in a bed with the dreamiest views in river cruising.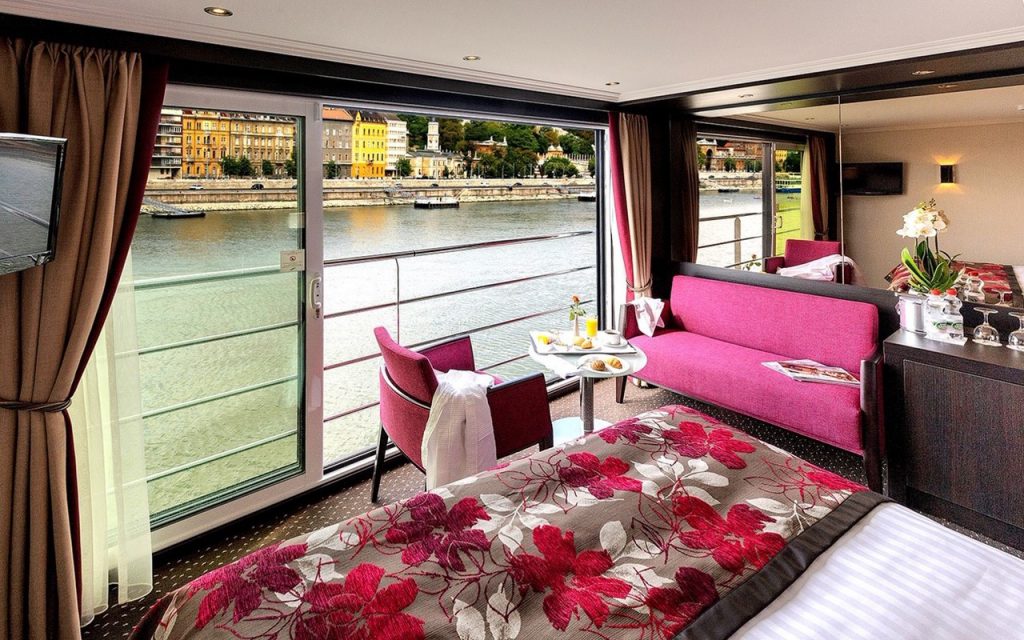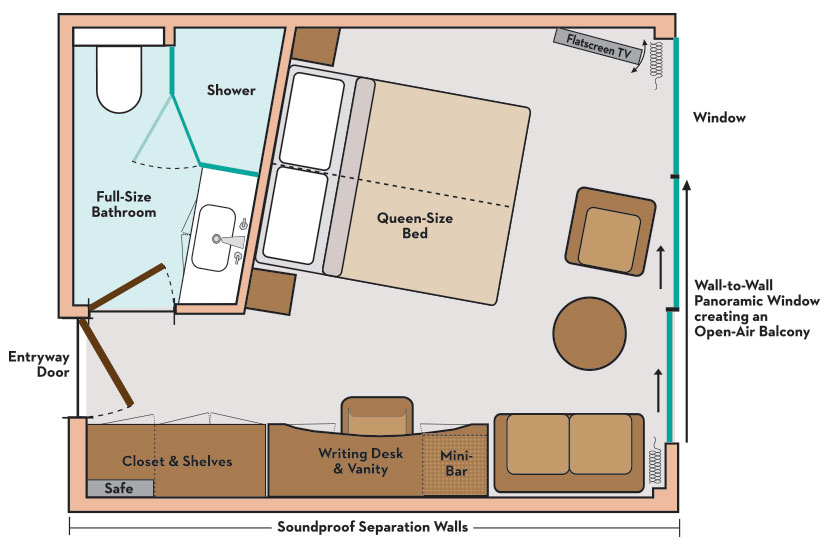 Features
6-person sitting area
Bathrobes & slippers
Choice of bed configuration
Comfort Collection BedsSM
Complimentary Wi-Fi
Easy under-bed luggage storage
Elegant, contemporary design
Extra blankets
Full shower with glass door
Individual climate control
Large mirror in bathroom
Make-up mirror
Memory foam mattress toppers
Sofa
Spacious 3-door closets with shelves for ample storage
Wall-to-Wall Panoramic Window with Open-Air Balcony®
Writing desk
Alarm clock
Bedside tables with reading lamps
Coffee table
Complimentary bottled water
Direct-dial telephone
Egyptian super-combed cotton linens
European-style duvets
Flatscreen satellite TV with movie channel
Hairdryer
In-room safe
L'Occitane bath products
Marble countertops in bathroom
Nightly turn-down service
Soft and firm pillows
Vanity
Well-stocked minibar